In the corporate world, data is king. Traditional, manual data entry is not only a waste of valuable time, money, and skills, but it also poses a threat to data accuracy due to the risk of human error. The solution? Automation. This technology has already revolutionized our personal lives, making everyday tasks effortless and boosting productivity. Why not employ the power of automation to tackle daily manual data entry challenges?
Entera
is innovative accounting software designed to automate data entry and make it ten times faster and more accurate. Entera streamlines the entire data entry process, from document collection and recognition to items matching and publishing into Tally, Zoho Books, QuickBooks, and digital storage.
Used by over 5000 accountants globally, Entera reduces human errors and enables the upload of thousands of documents into accounting systems automatically.
Challenges in Data Entry for Accountants
Each sale or purchase requires an accountant or bookkeeper to record numerous details in the accounting system. These include the sales/purchase date, invoice/purchase order number, customer/supplier information, product or service description, quantity, unit price, total sales/purchase amount, sales/purchase tax, payment method, and payment date.

An invoice may contain dozens of items that an accountant must carefully enter into the accounting software. In such a painstaking process, it is impossible to avoid human errors, which often lead to incorrect reports and fines for the company. Moreover, the process can consume up to 3 hours per day, translating to roughly 30% of work time per month which could be spent on more important tasks or work with new clients.

Another challenge is that the same product may already exist in the accounting system under a different name. This requires the accountant to double-check the entered items to prevent duplication and confusion. That's where Entera comes in.
Entera's 'Items Matching' Feature: A Game-Changer in Data Entry
Entera not only recognizes all the data from invoices, receipts, and quotes but can also automatically matches items with those already existing in your accounting software.

Using the power of machine learning and artificial intelligence, Entera compares item names, item groups, customers, suppliers, and ledger information in your Tally, QuickBooks, or Zoho account, and auto-fill the accounting information related to the transaction.

Entera's "memory" is another asset. After entering a few documents from the same supplier, the service will flawlessly recognize identical product samples and merge them under the chosen name. Additionally, Entera checks input data to prevent duplicate document entries.

Another advantage is that Entera learns from your actions. You can always change the information in a transaction if needed, and Entera will adapt and auto-fill values based on your past actions next time. Furthermore, Entera allows mass actions with items. For instance, you can select several items and assign them to another category or supplier.
How it works
The first step is simple: upload your invoices or other documents to Entera. The system instantly begins recognizing the data. After this, you can easily select which documents you'd like to transfer to your preferred accounting system like Tally, QuickBooks, or Zoho. It's an effortless start to streamlined accounting with Entera.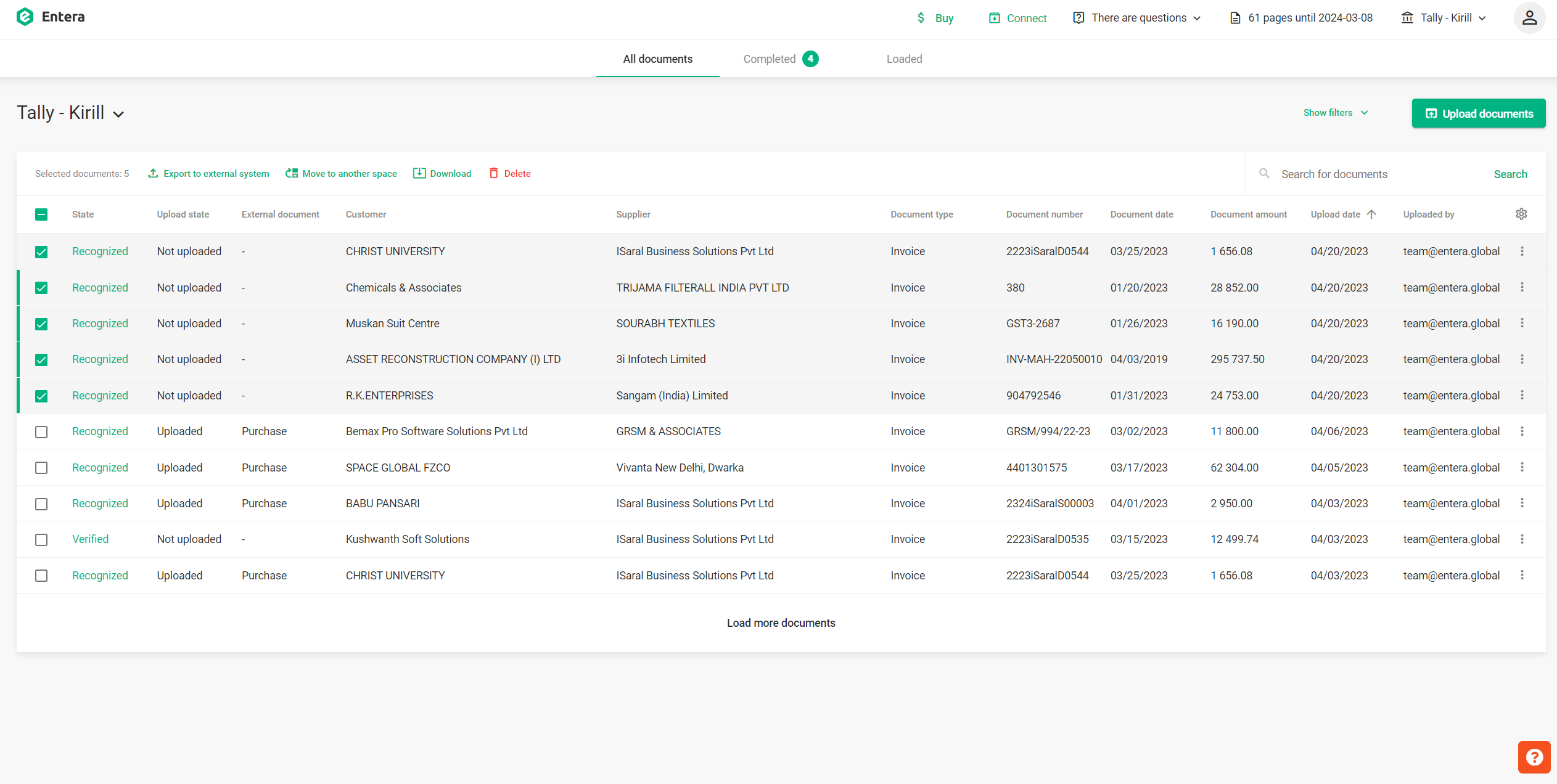 For the second step, click on the 'Export to External System' button. This action brings up the 'Items Matching' window. Here, you can tailor the software to your needs. If you manage an inventory in your accounting, choose 'Purchase (inventory)'. If inventory isn't part of your process, simply select the 'Category' option. With Entera, you have the control to customize your accounting process.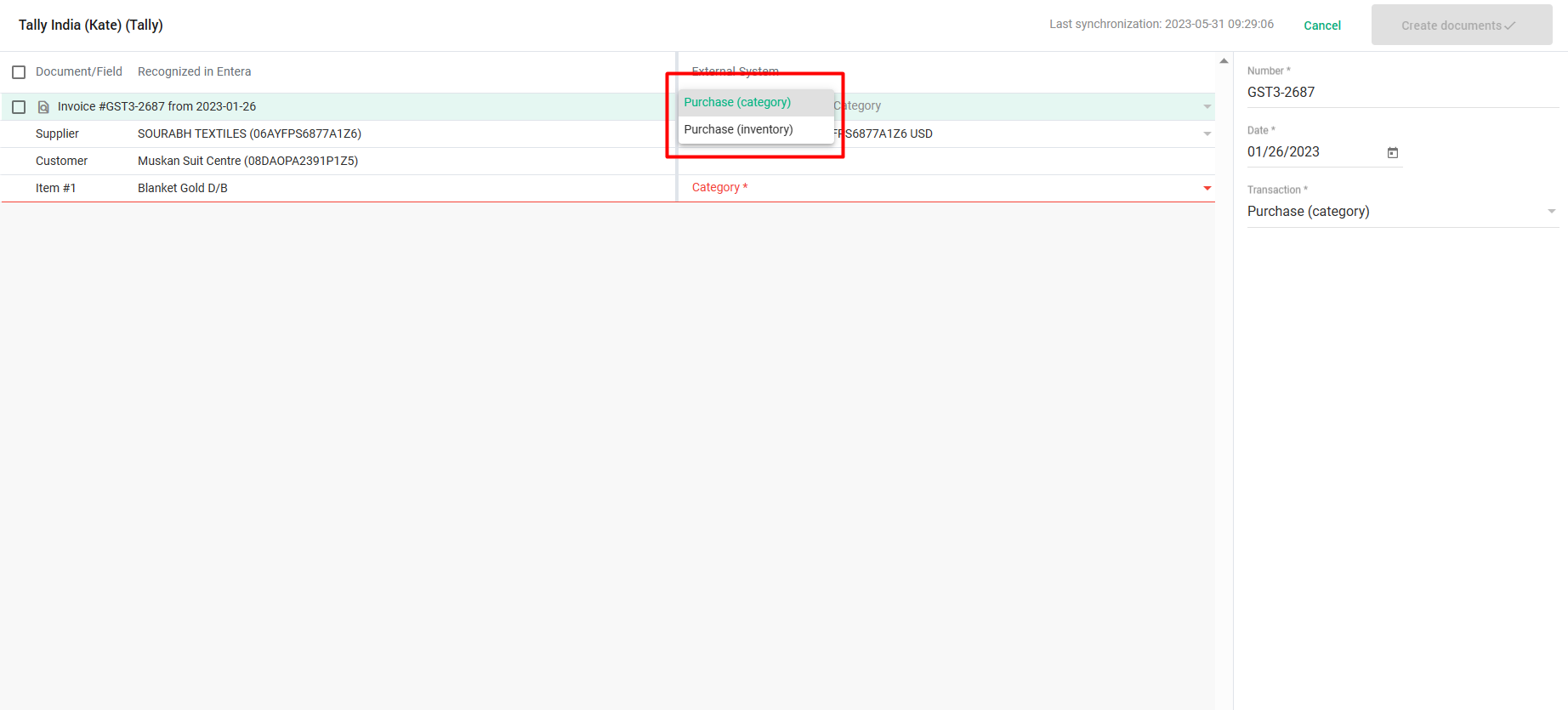 In the next phase, Entera takes over, smartly cross-checking items from your documents with those previously created in your accounting system.

Imagine getting the same blankets from various suppliers. Each supplier has a unique way of describing the same blanket on their invoices:

Supplier 1: Blanket Gold D/B
Supplier 2: Blanket Gold
Supplier 3: Blanket gold d1

But, in your accounting software, you just want to call it 'Blanket'.

Entera comes into play here. It extracts all the information from your documents and cross-checks it with the items you've previously entered into your Tally or any other system. If there's no match, you just need to teach Entera once how you want a certain item named, and voila! The next time, it auto-fills the required value for you.

The more you use Entera, the better it gets at understanding your preferences and automates routine tasks, saving your valuable time.
If the items from your documents aren't in your accounting system yet, there's no need for concern. With Entera, you can easily create these items. Once created, the system saves the information in your Tally and will auto-fill these values the next time around.
Try 'Items Matching' on Your Documents and Experience the Difference
By smartly automating the matching of items in your documents to existing records in your accounting systems, Entera saves valuable time, reduces errors, and streamlines your entire data entry process.

Advanced technologies like AI and machine learning learn from your usage patterns, making the software more efficient and adaptable to your specific needs over time.
Embrace this new feature from Entera, and let automation simplify your accounting processes, increase productivity, and give you more time to focus on the tasks that truly matter.
Want to get a free trial of automated data entry with Entera or have questions?CONTACT US
+91 (807) 127-9897
team@entera.global
Write on WhatsApp